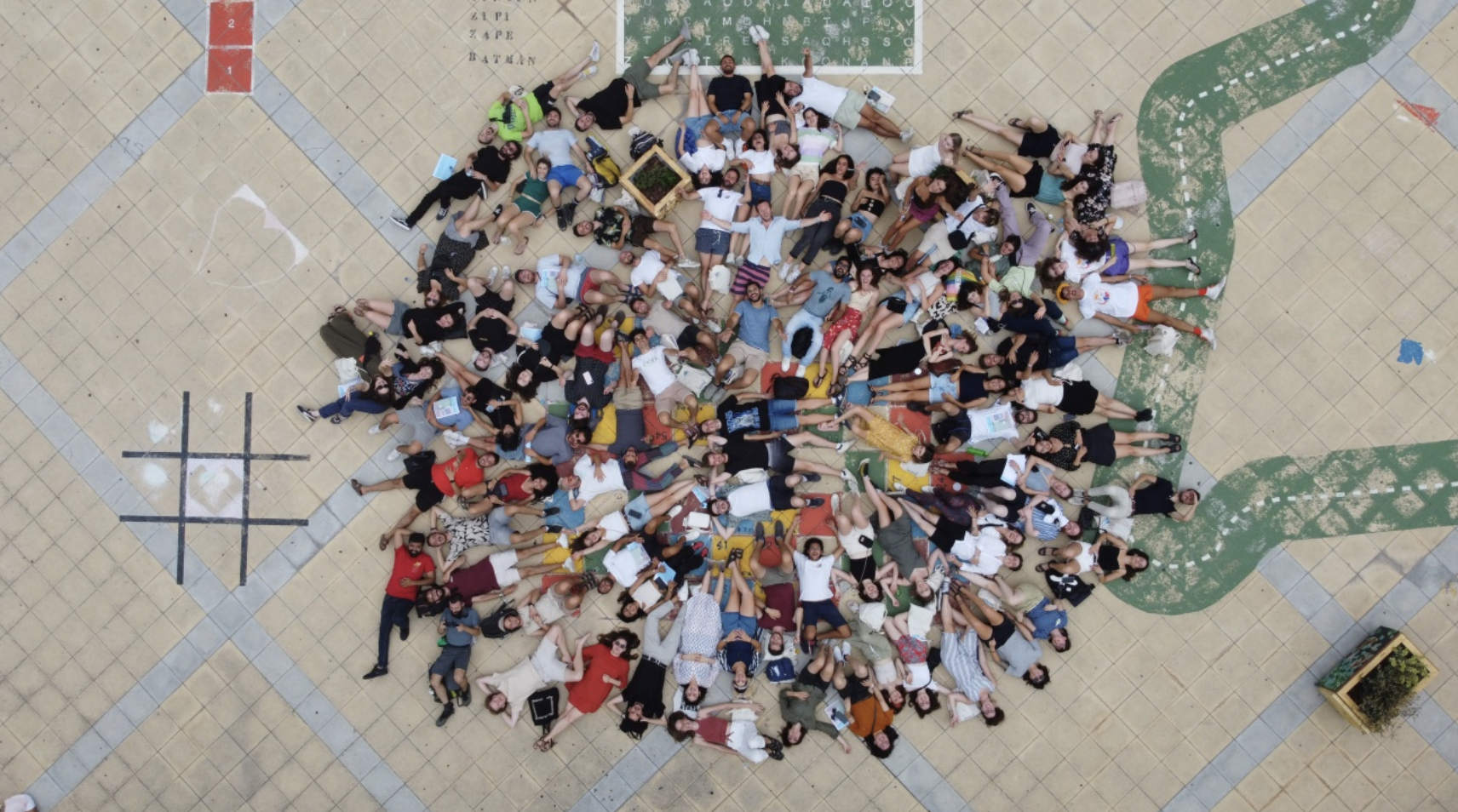 Las Fuentes neighborhood already enjoys the 8 projects carried out this summer in 'Meds Cierzo' workshop. For its elaboration, there has been an intense previous interaction with neighbors, associations, shops, social network and different institutions throughout the neighborhood to know everyone´s needs. The projects are getting an excellent outcome, not only in Zaragoza, but also internationally through MEDS networks. All nationalities are seeing and having an update of the worked carried out in Zaragoza. Different areas of Zaragoza´s City Town Hall took part in the event: "Urbanismo, Servicios Públicos, Cultura, Economía, Juventud, Participación y Junta Municipal del Distrito de Las Fuentes".
MEDS (Meetings of Design Students) is considered an international workshop organized each summer in different countries. Starting in Turkey 2010, the event has brought together about 100 participants related with art, design and architecture creating and building their own projects. MEDS offers all participants, the opportunity to exchange, learn and get to know different cultures. This year, the international workshop, was held in Zaragoza (Spain). During the first two weeks of August, 100 young and enthusiastic design and architecture professionals, from 30 countries, gathered in Las Fuentes bringing together 8 different projects. All of them, sharing common themes. Redefining the neighborhood. Support, interaction and regeneration of local commerce. Sustainability and Revival of urban space.
8 PROJECTS:
GREEN ON
GREEN ON aims to activate a small public space in Las Fuentes, through the introduction of both green space and artistic mosaics made from recycled wood. With GREEN ON, the intention was to not only provide a space for the participants to develop their construction skills, but to also allow individual expression which afforded a sense of individual ownership over the project through the creation of mosaic pieces which decorated planter boxes and walls. As Magda Storożenko-Polak and Kamila Haja tutors of the project express: "The ability to correctly use tools, and understand how elements are processed and connected to create something larger, are important skills for architects and designers to understand." Over 5000 pieces of wood were used in total to create this project. During two weeks, the final result was a complete success, reaching 2 large planter walls, 10 planter boxes, two benches, 48 small individual mosaics and 6 large group mosaics.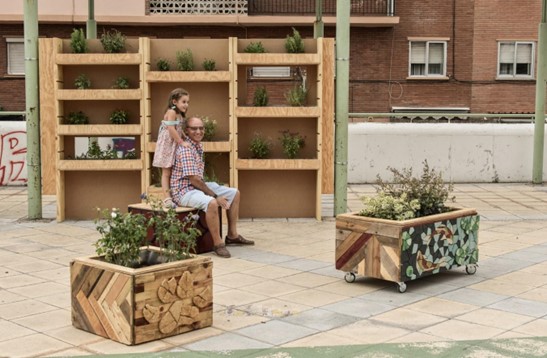 Tutors: Kamila Haja, Magdalena Storożenko-Polak , Andrew Byrne.
Participants: Andrew Galea (Malta), Bartosz Andreczko (Poland), Çisem Nur Yıldırım (Turkey), Gabriela Adam (Romania), Greis Malaj (Albania), Hanna Schönberger (Germany), Kayra Suner (Turkey), Paula Catalina de la Cruz (Spain), Simanur Sucu (Turkey), Vladimir Georgiev (North Macedonia.
WIND PAVILION
The main idea of Wind Pavilion is to create an interesting space for the neighborhood of Las Fuentes. The pavilion is closely related to the wind. The circular shape that presents, allows an enclosed experience of sounds and relation with the design. The pavilion is located in Parque de Calistenia, Las Fuentes. It is divided into three main parts with a transition of the relationship between humans and nature in sonorous activities. The project only requires three constructive materials: one dimensional pine wood for the main structure, bamboo and strings for sound elements.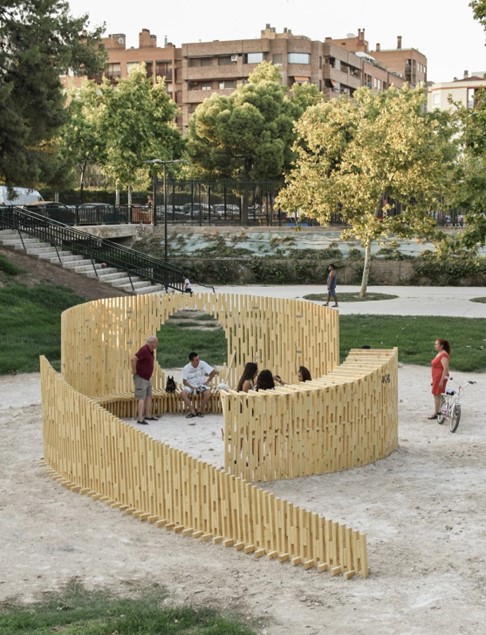 Tutors: Dominika Ufnal, Nicolas Boscoboinik.
Participants: Ahmad El Zu´bi, Elveda Yildirim, Gaia Brenna, Mark Caruana, Stephanie Nicolas, Demetris Nicolaou, Sherry Guindy, Mo Abdelbary, Ahmed Bouksani, Jasmin Schnellmann, Justyna Gala, Dónal McLarnon, Stavroula Tziourtzia, Francisco Roy.
STAND STILL
Stand Still is a project about plastic. In the middle of a worldwide plastics crisis, consumers are shamed for using it, a lot of designers avoid it, but it is a material reality of our time. Taking advantage of the HDPE's capacity to be melted down and transformed, tutors and participants collected post-industrial and post-domestic plastic waste to make a series of tabletops. The material comes from Torre Ramona park, in Las Fuentes neighborhood and across the city, combined with material from Dilavisheire recycling factory. The plastic was melted using an extrusion machine made available by Viaje a la Sostenibilidad, this allowed it to melt and form the shredded plastic into tabletops. As Linus Gruszewski and Andy Yu tutors of the project remark: "Our hope is that the tables tell the story of their fabrication, and give back to the neighborhood which provided the base material for their construction."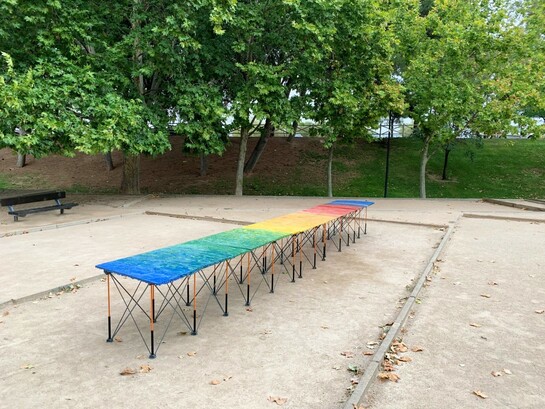 Tutors: Linus Gruszewski, Andy Yu.
Participants: Jorge Javier Ruiz Alcarazo, Ghida Metlej, Milica Šašić, Katarzyna Prokopiuk, Sara Prilepchanska, Afef Skouri, Emma Vručinić, Aramis Rudisuhli.
AIR RUSTLE (KIOS&COS)
The Air Rustle (KIOS & COS) is a pavilion that symbolizes the path of life that everyone faces. There is no beginning of the path and no end. The only thing that connects a person with reality is the Wind and rustle that wind creates. By looking at the constantly changing pattern of the pavilion, listening to the rustle, a person enters a meditative state, stopping his inner self and suspending reality. Like leaves rustling in the wind, the skin of the pavilion is breathing and opening, letting glimpses of colors stand out for a short moment. The colors of the fabric are in harmony mixing with the sky. The corridor is without beginning or end, meaning that a person can walk there, contemplating the ambience without breaks. This is the philosophical essence of a circle or a loop. The main elements used throughout the building process were wood and fabric. (Small pieces of cloths made up of different colors).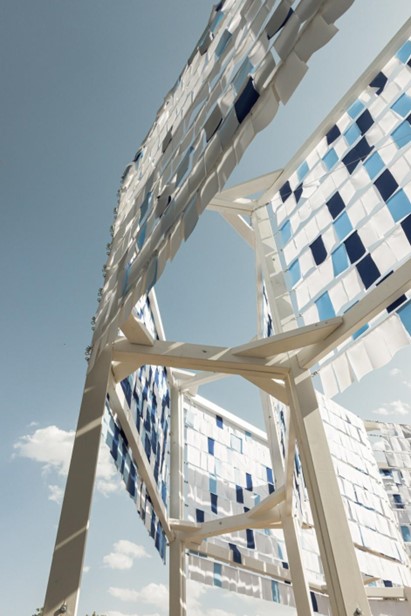 Authors: Ilya Katliarski, Anastasiya Katliarskaya; Tutors: Ilya Katliarski, Stanislav Rabunski.
Participants: Ralph Rizkallah, Catalin Bigan, Klaudiusz Szwajka, Marc Aquilina, Yağız Ateşoğlu, Akanksha Barada, Qiujun Zhang, Margherita Padovan, Giordano Segato, Dora Pavesic, Katarzyna Wroczek, Leda Demetriadou, Marine Fondin.
LIGHT IT UP
Light it up, is a workshop about designing lamps for local shops in Las Fuentes, Zaragoza. The workshop is built up on experimental and performative design process where the designs of the lamps were done with recycled materials from the shops. During the workshop, the participants got to know the basics of lamp electrification, as well as observing how light acts in space. The lamps attract pedestrians walking through the streets and this makes the shops more visible. Private space fades into public space through illumination.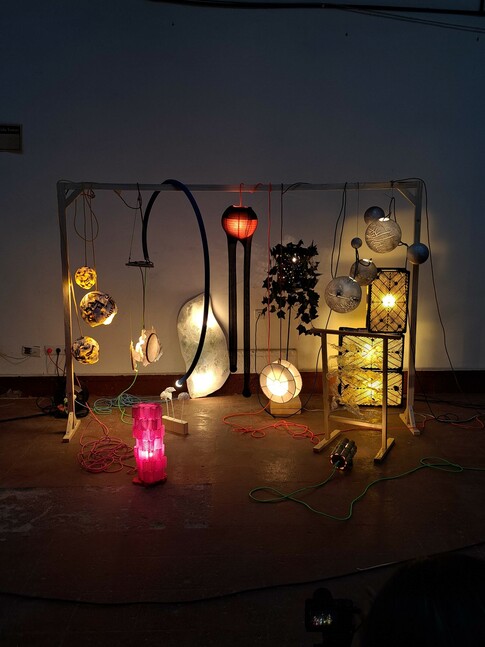 Tutors: Alena Halmes, Rafael Gil Cordeiro.
Participants: Iulia Petrescu, Krishna Aneja, Veronika Baseghyan, Isabel Rodriguez, Krystine Kontos, Ndricim Kodhelaj, Marita Etel, Evgenia Malamoglou.
FUENTURNITURE
The project develops the idea of using elements as a way of interaction in the neighborhood. While the site was visited, the participants and tutors understood the site as a place where children and elder people could connect through furniture. Creating a place to sit, to say and to play. Thinking in the idea of sliding puzzles, a playful seating concept was developed made up of wood.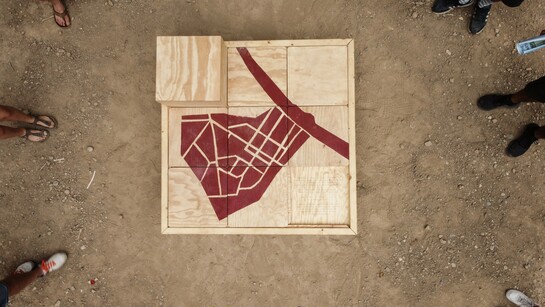 Tutors: Joe Murphy, Pelin Gunay.
Participants: Nola Bokun, Katarzyna Mizera, Jason O´Kelly, Jorge Crespo, Nadine Weyeneth, Nils Schimitzek, Serena Moisiu, Frideriki Gektidou.
DISTRICT OF SIGNS
The main goal of the project was to help the local businesses "Yo Compro en Las Fuentes", to gain visibility in the neighborhood. 15 Corners were painted, creating geometric designs showing the different directions of the shops. There were 6 categories proposed, food, fashion, beauty, services, restaurants, art and stationery. At the beginning, the workshop was focused on getting to know the shops owners and get a closer relationship with them, feeling the atmosphere of Las Fuentes neighborhood. After this exhaustive research, the painting was done in the pavement, creating a new image in the streets.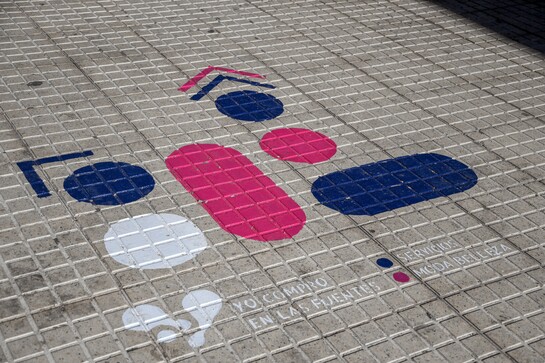 Tutors: Blanka Przedpelska, Ola Rysak.
Participants: Hannah McCarthy, Julia Simeonov, Dafina Thaqi, Matthias Galea Souchet, Cormac O´Mahoney, Melisa de Castro Alijarcio.
RADIOHOOD
The main idea behind the project was to use observation of urban space as the main inspiration and tool for storytelling, through the creation of maps and documents, games and the development of personal projects. The wide range of the participants interests, skills and needs, influenced the project and turned it into a more experimental direction, creating performance and videos for example. The final outcome was a real success, by the creation of a magazine and an exhibition, which showed the different ideas and work, that was created during two weeks in Las Fuentes, Zaragoza.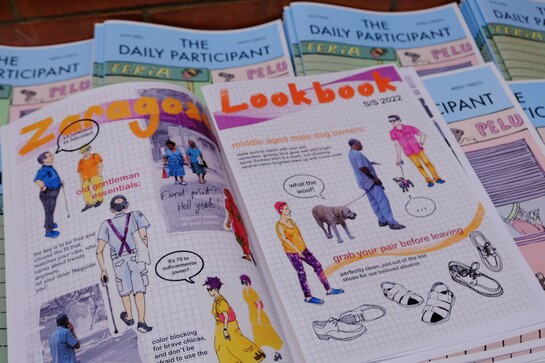 Tutor: Georgia Zachari.
Participants: Hassan Mabrouk, Marina Mijatovic, Mihai Birtu, Kasia Skórniewska, Kristina Sargsyan, Alya Saroyan.
Participants and tutors where hosted in the school Julián Sanz Ibáñez. Meanwhile, during these two weeks, the workspace was held in "El Antiguo Matadero Municipal de Las Fuentes, Centro Cívico Salvador Allende".
Since the whole project has been carried out within a non-profit organization, both participants and tutors paid a fee to participate in the project.
Main partners: Ayuntamiento de Zaragoza, la Junta Municipal de Distrito de Las Fuentes, Toldos Serrano, Lyra Residencial y Dilavisheire
Sponsors: Ingennus, IDOM, Mafell, Los tranvías de Zaragoza, Maderas Planes, Rem Arquitectura, Fundación Zaragoza Conocimiento, Centro Cívico Salvador Allende, CEIP Julián Sanz Ibáñez, Eboca, Estudio Habito, Asociación vecinal Las Fuentes, Plan Joven Zaragoza, Grupo GEN Arquitecura, TASH Arquitectura, Centro Sociolaboral Adunare, Viaje a la Sostenibilidad, MSM, Editeca, Yo compro en las Fuentes, CME, Impact Hub, Fundación el Tranvía, Centro de préstamo, Consejo de Juventud, Etopia, Harinera ZGZ, Fundación Arquia, ZGZ Dinámica, GDG, Colbus, Sala Lo Intento y HECO Ibérica.
Title
: MEDS CIERZO 2022
Type
: Built Projects, International Workshops & Masterplans
Website:
http://medsworkshop.com/
Facebook
: www.facebook.com/medsworkshop
Instagram
: @meds_workshop
Organizers
: MEDS (Meeting of Design Students) – Adrián Alfonso Laborda, Ignacio Condón Martínez, Sergio Fuertes Royo, Yacme Mangrané Sierra, Patricia Santos Prieto, María Condón Martínez, Guillermo Rafales Sancho, Pablo Magdalena Visús, Sara Navarro, Pilar Notivoli Dávila, Melisa de Castro Alijarcio.
Text
: Patricia Santos Prieto and Tutors.
Photos
: Ignacio Condón Martínez, María Condón Martínez and Tutors.
Venue
: Las Fuentes neighborhood, Zaragoza (Spain)