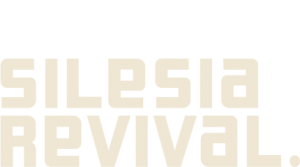 ---
The urban and architectural context of Silesia as an industrial space of mines, smelters and factories translates into a very specific sense of Silesian identity. Industrial context and identity allows us to reflect on the issue of transformation. Transformation that has already taken place, and the one that can potentially occur for the future of Silesia.

Context, Identity and Transformation, three main categories of the MEDS REVIVAL theme are carried out through three main fields of action: Ecology, Society and Revitalization.

Ecology concerns the shift from the commercial industrial mindset to a sustainable one. which is both physical (creating eco friendly projects that are to be put in the public space) and as well an attempt to shift the citizens' mentality.

Social aspect of the workshops serves to encourage the inhabitants of the Silesian cities to engage in the changes that are done and can be done in their nearest environment. MEDS participants and the citizens will brainstorm and work together to change the image of Katowice's backyards.

Revitalization very directly refers to the refreshment of the historical spaces and bringing back their liveliness.

As well as the impact of these changes, hopefully they will result in a revitalised identity of the citizens. more and more proud to be Silesian with all the implications that derive from the mixture of old and revived.
---
Silesia had a completely different history than other regions of Poland and for almost 600 years the region did not belong to Poland until the end of World War I…

Since the 9th century, Upper Silesia has been part of: first: Greater Moravia, then the Duchy of Bohemia, the Piast Kingdom of Poland, again of the Lands of the Bohemian Crown and the Holy Roman Empire, and then part of Habsburg Monarchy, later the Kingdom of Prussia and German Empire later… After the Second World War it was placed under the administration of the Republic of Poland. As you can see our history is really interesting, and this year will be a great opportunity to get to know more about it 🙂

There is a very strong Silesian identity in the historical region of Silesia and more than 800,000 people define themselves as part of a different nation.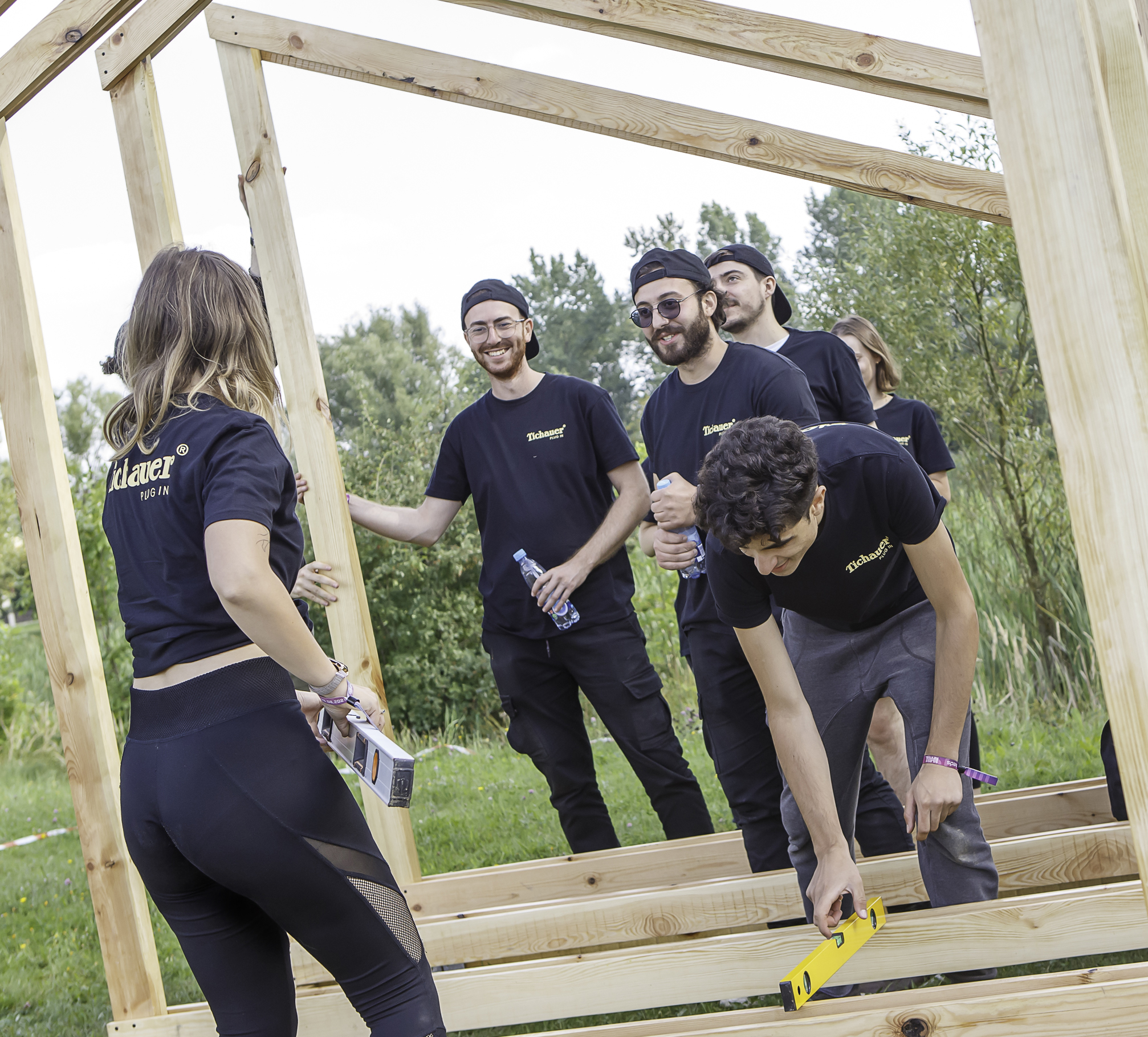 Gallery of Reflections
Description

Main intention behind "Gallery of Reflections" was to create an interactive installation within a natural environment connected to everyday residential life. The project interrogates not just how we view but also how we physically engage with and mediate the natural world. On a community level provided shelter lends itself to a range of uses and intends to foster and develop a relationship between the local children and thier natural environment. The space is a canvas for play, reconfiguration, and reinterpretation - it is a lens, a frame and a home in one.

On a workshop level the installation is an attempt at a collaborative, interdisciplinary exploration. It was an opportunity for participants to actively engage in a group design and construction process. Collaboration is at the heart of any great project, so it was important to give space for each participant to express themselves, resulting in a more interesting and engaging project. On an architectural level, the material itself was the heart of the process. Participants had the opportunity to work with timber and the challenging material of steel.

Tutors:

Magdalena Storożenko, architect, Poland
Kamila Haja, architect, Poland
Alex Curtis, architect, Ireland

Participants:

Enes Bayrak (Turkey), Kasia Mizera (Poland), Margherita Padovan (Italy), Matty Galea Souchet (Malta), Damian Wnuk (Poland), Jason O'Kelly (Ireland), Sara Navarro (Spain), Haya Suri (USA), Ibrahim Sadiklar (Turkey), Rami Lazkani (Lebanon)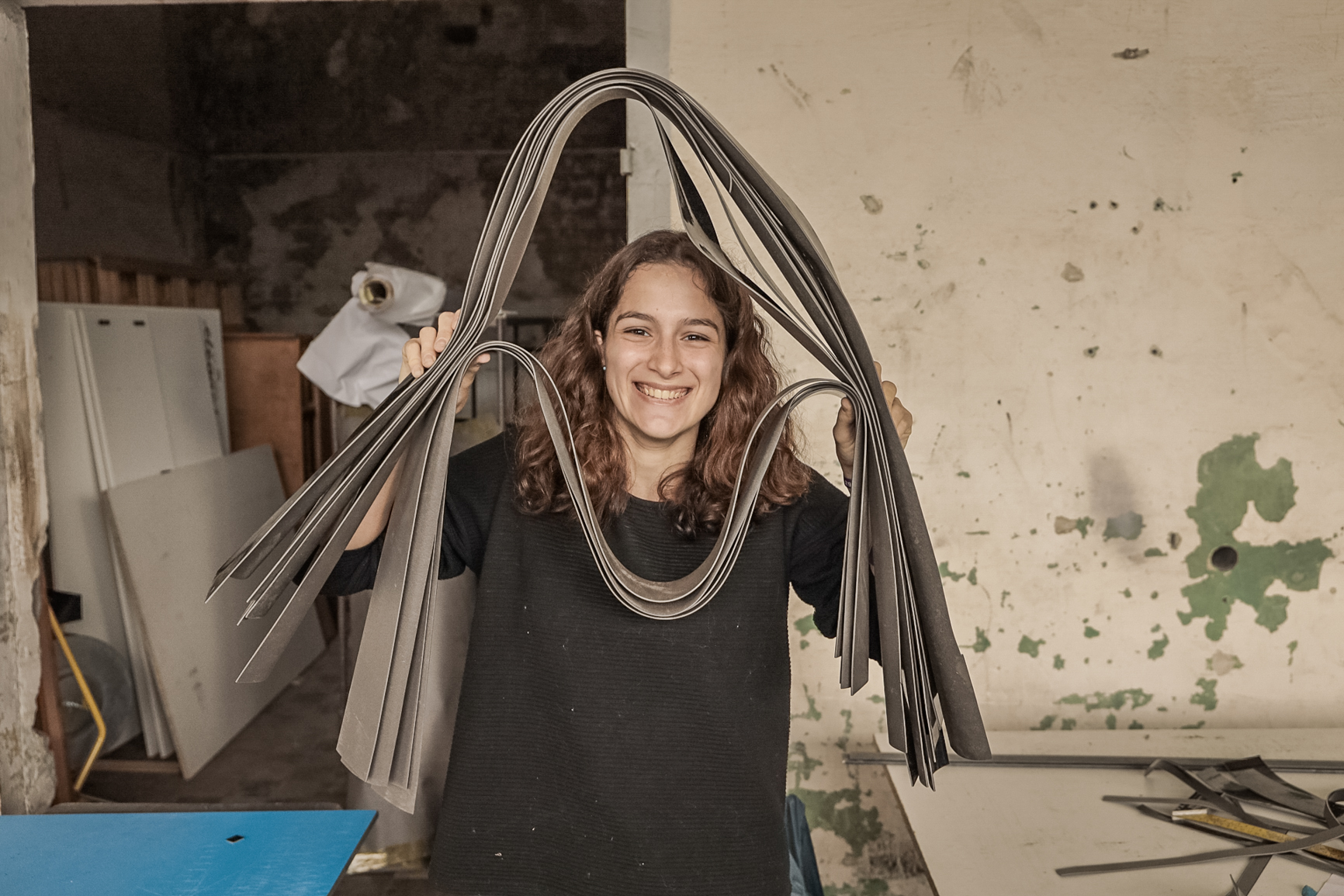 Grid of the city
Description

This project is an experience of light and sound. Its landmark within the microscopic scale of the site. The mosaic is a unique element in the city of Tychy that not only has a historic point but also has a unique landmarks. The installation is consisted of wood, lights and white covering sheet. The structure system of the project is timber frame structure that carries the wood panels and lights of the installation. The lights were placed on the panels with different colours reffering to different districts and plots. The last finishing element is white sheet that covers the whole installation to show the created mosaic using lights. As a result a playful installation was brought to life that now you can enjoy on site of Civic Brewery in Tychy.

Tutors:

Blanka Byrwa, Interior designer, Poland
Jan Książek, architect, Poland

Mentors:

Ksawery and Jakub Kirklewski!

Participants:

Adrian Alfonso (Spain), Ahmad El Zubi (Lebanon), Dominikos Wildeboer (Cyprus), Demetris Nicolaou (Cyprus), Emma Vručinić (Croatia), Sofia Rampanelli (Italy), Kasia Prokopiuk (Poland), Melisa de Castro (Spain)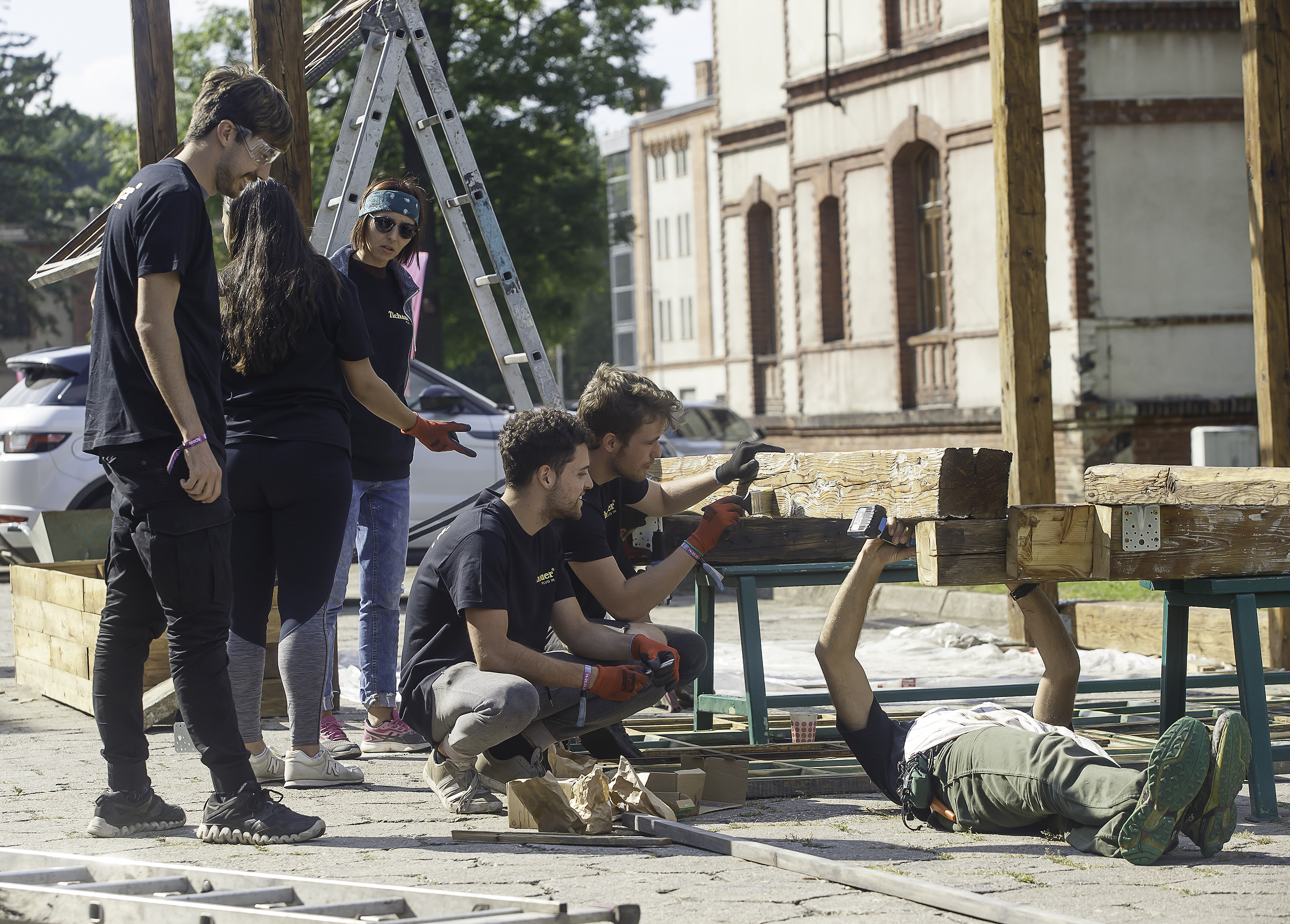 Green Pavilion
Description

The Green Pavilion is a design challange on may levels. Creating the best condition for the hop plants and a pleasant place to rest for people while fitting into historic fabric of the brewery was the main concept of the project. Benches, hop plants and shade sounds simple, but what gives it a flair are old, reused materials, that were found on the site. The idea itself is simple, however implementation turned out to be really challenging. The 3Rs principle (reuse,reduce and recycle) is demonstrated at every stage of the project. Main materials were found on site - Civic Brewery... after reconstruction remaining materials were stored and now it was used for creating a completely new object.

Tutors:

Basia Płonczyńska, Architect, Poland
Dominika Ufnal, architect, Poland
Nicolas Boscoboinik, architect, Argentina

Participants:

Klaudiusz Szwajka (Poland), Ralph Rizkallah (Lebanon), Mark Caruana (Malta), Leda Demetriadou (Cyprus), Donal McLarnon (Ireland), Iga Sowa (Poland) Agnieszka Niczyporuk (Poland), Sara Prilepchanska (Macedonia), Ola Rysak (Poland), Agron Suka (Kosovo)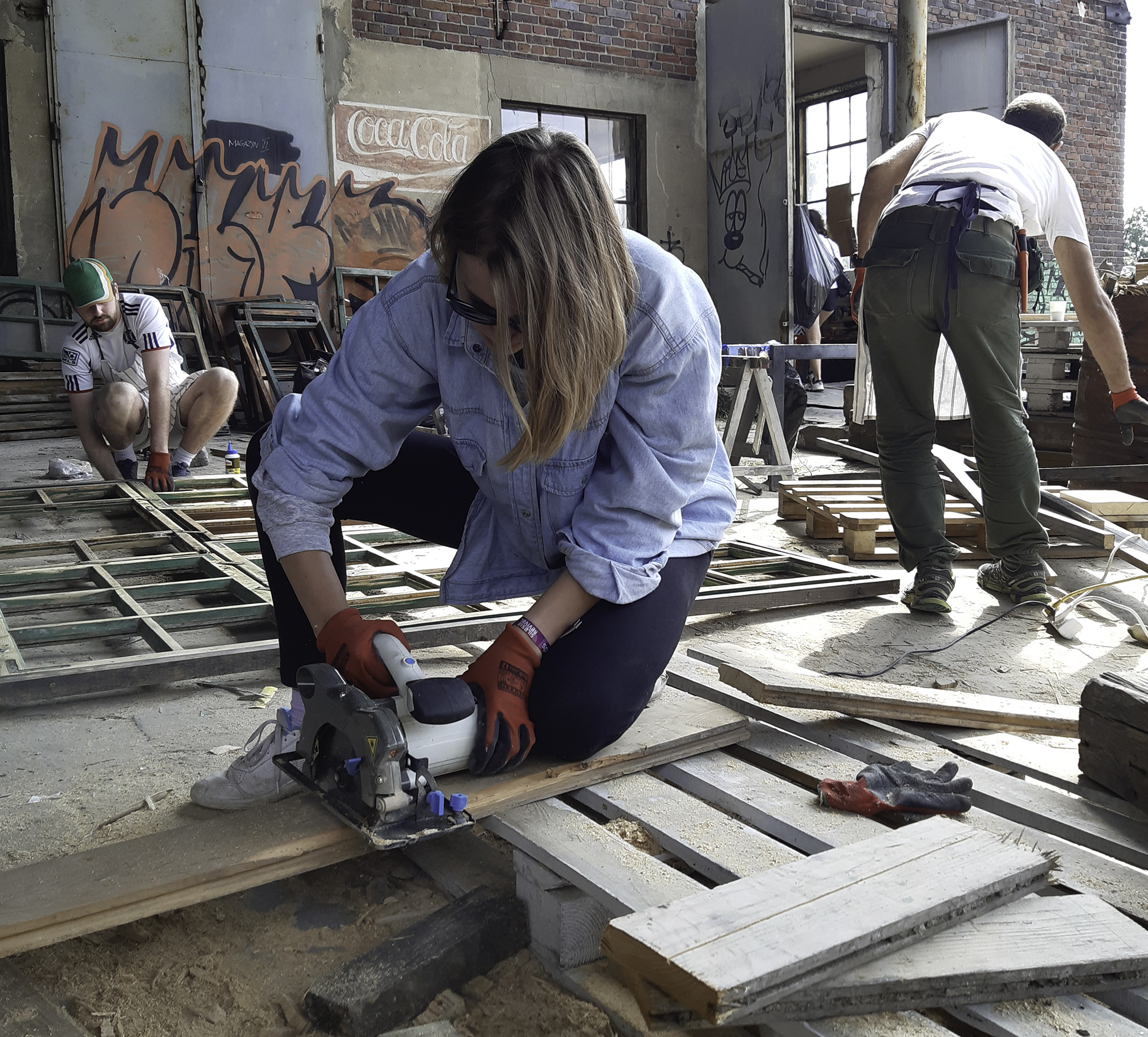 Wabi Sabi
Description

We warmly invite you to visit the Wabi Sabi tunnel and learn about Silesian legends! Project location - the tunnel by the City Point shopping center in Tychy. Let the flow of Melusine guide you through the tunnel filled with wonders of the Silesian legends. Melusine is a figure of European folklore, a female spirit of fresh water in a holy well or river. She is usually depicted as a woman who is a serpent or fish from the waist down (much like a mermaid). To this day the people of Silesia can hear her cry through the wind. 🌬 Are you lost? If you see a really short man with hair looking like ears of grain, watch out! Who was Polewnik? He was depicted as an unnaturally short man with a grainy complexion, with ears of grain instead of facial hair. Supposedly he walked the fields, sometimes at noon, sometimes at sunset, and played at the expense of those he encountered, leading them off in the wrong direction. You are at the end of the tunnel - so look out for the glowing, green-eyed miner – a ghost of a former miner called the Treasurer. If you roam the tunnel in peace and with respect, he will only keep an eye on you and warn you if there's danger, but if you make him angry, run! The Treasurer is a spirit in the shape of an old man with eyes that glow in the dark. According to the story he was a former miner called Walenty, who was completely obsessed with his work. As he aged he made a plea to God, to let him stay in the mines after he dies. His wish was granted and now he roams coal mine. Can you believe all this was created from trash?

Tutors:

Andrew Byrne, Architect, Ireland
Deimis Bakunas, architect, Ireland

Support:

Vanessa Chamlian, architect, Lebanon
Elira Beqaj, architect, Kosovo
Errita Zuna, architect, Kosovo

Participants:

Andrew Galea (Malta), Blanka Przedpełska (Poland), Bogusława Szlachciak (Poland), Julia Siemonov (Croatia), Marc Aquilina (Malta), Nola Bokun (Croatia), Leyla Abou-chedid (Lebanon), Robyn Harfouche(Lebanon)
Michalina Brokos
Graphic and Social Media Manager
---
Sandra Przepiórkowska
Social Media Manager
---
Ewelina Szczepanowska
Media Manager
---
Blanka Przedpełska
Social Media Manager & Project Support
---
Katarzyna Prokopiuk
Project Support
---
Kasia Mizera
Project Support
---